Introduction
Having second thoughts about your current environment? Looking for an opportunity to grow or expand your horizons? If it is your first time embarking on the 'real world,' this article is for you. Join the job search in Clark Pampanga, where various possibilities are in store.
Knowing Your Capabilities: Preceding Job Search in Pampanga
With so many positive improvements underway, Pampanga is rapidly approaching its heyday. Not only with its progressing and thriving economy but also the increasing business propagating all over the urbanized locale.
The possibilities are endless, but the fundamental inquiry is: do you know what you want?
For fresh graduates, it is like combing through uncharted territory. The troubled feeling of having to go through all the new information and meeting different people of diverse ages and backgrounds. In addition to this, familiarize themselves with a culture different from what they got used to.
However, this is not the juncture to succumb to fear. Individuals who are first-time venturers of the 'real world' have a vast opportunity.
Therefore, they should know their own QuaIntS:
Qualifications are the primary indicators of someone's fitness for a position. These could include one's educational attainment, licenses, and previous experiences like internships.
On the other hand, interests might include one's activities, artistic expression, and learning pursuits. For example, the want for people engagement or creating graphics.
Lastly, skills are learned results of your qualifications and interests, like customer service/interpersonal skills or artistic skills.
They say that your first job will make or break your career. But instead, it should be the foundation of your profession.
For experienced individuals, common reasons for looking for new job opportunities include wanting to grow their careers. Another is a change in environment and exploration of other possibilities. In addition to this, seeking more reasonable compensation.
But they must consider the 2Ws when looking for something worthwhile:
Everyone has their reason for considering finding another job. Most of them heavily rely on external factors that could affect all their subsystems in life. These include family, relatives, and other valuable relationships.
For one, a huge anchor to full-time employees with growing families is whether or not their salary is enough. This is to help sustain their own and their children's everyday needs. Another is the question of whether they are growing in the traditional system that they have placed themselves in.
The applicants have another concern to consider. Can the company they be applying to match or increase their current salary? However, this would also depend on their competence and skills.
One of the most frequent motivations of working individuals now is a company's treatment of its staff. Some say that work-life balance is quite hard to achieve, especially in conventional business setups.
Threading a Path to Success: Commencing Job Search in Clark Pampanga
Contemplating whether to reach for the heights or stay in your comfort zone is done. Now is the opportunity to get to know your locality.
Know the Industries
To prepare yourself for battle, you must know what weapons you have. Understanding the job market near your area can help you gauge your chances. One of the fast-rising commerce in Pampanga is its evident tourism.
As the nationwide quarantines began to loosen, the province became a popular tourist destination for city dwellers. They would spend approximately 2 hours on the road to visit famous landmarks and aesthetic coffee shops or attend music festivals. This helped not only business owners but jobseekers as well since they required staffing.
Aside from that, agriculture has been a cornerstone of the region. A lot of business depends on the natural resources that the area takes pride in. This sector gives life to the title of Pampanga as the Culinary Capital of the Philippines. Simultaneously, it is the bearer of absolute service through its valuable personnel.
To add to that, Pampanga has been an expanding core of Business Process Outsourcing (BPO) companies. Among the great companies in this sector is the NumberFun workplace in the country, ShoreAgents Inc.
Job opportunities offered in organizations like these include administrative roles, web development, accounting, bookkeeping, and, most especially, real estate services. These are just a few among the long list of opportunities these organizations hold.
With the growing success and vast scope of outsourcing firms, new employees and experienced individuals can explore their skills. This can range from entry-level roles to highly technical or management positions.
Find What Suits You
Along with the growth of every generation comes the evolution of technology. Acknowledge the industry that best fits your QuaIntS and find answers to the questions. Then, it is time to find companies that offer related jobs.
Job Portals: Online job boards are now an essential component of the contemporary job-seeking procedure. A large variety of Pampanga-specific job ads are available on websites like Indeed and LinkedIn.
Other job opportunities can be accessed through BestJobs, Google Search, and Ads. To be informed of the most recent job vacancies, frequently visit these platforms.
Company Websites: These are the primary sources of the company's background. It can be an extremely cost-effective marketing strategy and makes accessing it convenient for job hunters. They usually consist of who the company is, what they do, and the job positions they offer.
ShoreAgents company platform includes sections like the pricing, services, roles, blogs, media, and a redirect to the company's career website. This website consists of the company's current job postings. Moreover, a quick guide on the hiring process and articles are written by the ShoreAgents team. Additionally, it includes FAQs, reviews, and some mementos of the agents.
Social Media: Now more than ever, companies need social media. Anyone who can handle just one gadget can have access to this communication medium.
They are designed to be user-friendly but also because of the current trends. This could be a valuable resource, especially for Millennials and Gen Zs, who are known to be 'digital natives.'
Facebook and Instagram stand out as the two most prominent platforms used by companies today. They use these platforms to find talent in the age groups mentioned earlier.
Many businesses in Clark also post job vacancies and hiring news on their social media platforms. Become a member of organizations for your industry, follow business pages, and interact with pertinent content.
Attend Industry Events
One of the traditions of organizations that was withheld because of the pandemic is their company job fairs. In this setup, recruiters from various departments or clients can come and represent the company. They exhibit the job opportunities they can offer to job seekers in one big venue.
The seminars at career fairs are helpful. They provide broad information on how to construct a Curriculum Vitae or prepare for an assessment center. They are an excellent location to conduct some informal research. Employers at career fairs offer a wealth of knowledge and experience about many industries.
Applicants must attend industry-specific events. These include career fairs, and professional networking gatherings to meet potential employers, industry professionals, and like-minded individuals. Engaging with local business associations and organizations can also provide valuable connections and insights into the job market in Clark.
Taking it to the Stratosphere: Moving from Job Search to Job Application
A journey will only be complete if it reaches its destination. It is time to develop your identity and create a remarkable presence to market yourself to recruiters.
Crafting a compelling resume and cover letter is essential to make a positive first impression on potential employers. Tailor your resume to showcase relevant experiences and achievements that align with the job requirements.
Write a concise and persuasive cover letter that highlights your passion, motivation, and fitness for the position. Remember to proofread thoroughly to eliminate any grammatical errors.
Do some research on the business and become knowledgeable about its offerings, target market, and selling trends. Practice answering typical interview questions while emphasizing your communication skills, capacity for handling pressure, and flexibility. Show that you are willing to operate in a demanding workplace where the customer is everything.
Digital resumes are not the only way to present yourself to potential employers. Through LinkedIn, recruiters can access public details regarding a potential candidate's credentials, experiences, and skills. Just like social media accounts, it also allows them to send a direct message to an individual they see fit. Businesses can also immediately trace the job seeker's background to verify the information.
Succeeding all there is you need to consider. From recognizing your strengths to finding the correct position for your qualifications, it is now time to submit your application!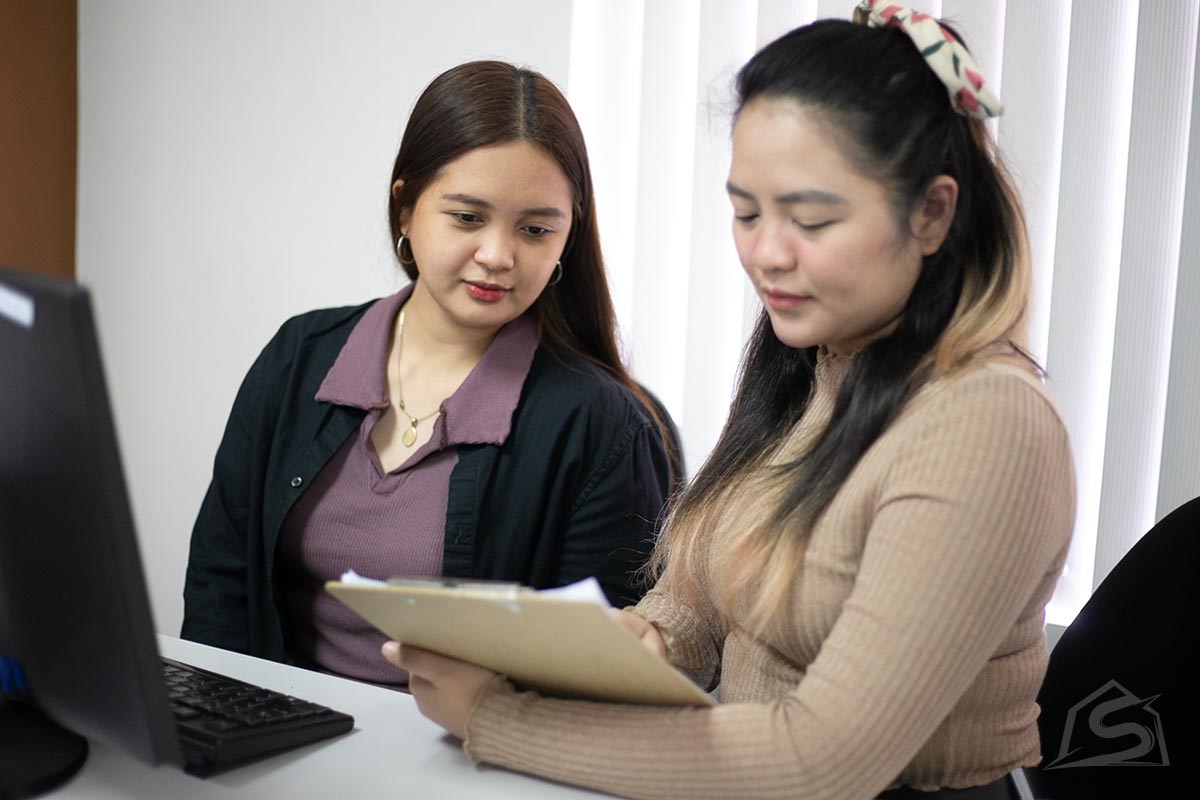 Conclusion
The employment landscape in Clark, Pampanga, is dynamic and ever-changing. The people, the technology, and the world are shifting as time passes. Some things that worked before might not work now.
For first-time job seekers or those looking to improve their skills, understanding your value to the desired company is crucial. Assess your capabilities thoroughly and identify what job orders suit you best.
Apart from that, make sure of the industry you are aiming for. It might be a small decision now, but it can significantly impact your future development.
In the BPO setting, practice is your ally. Improve your communication skills and hone your knowledge by constantly answering interview questions.
If you have prepared all there is that you need, it is time to wait for your dreams to take flight. And hopefully, you will be one of the stars to join us in building brighter futures together.
At ShoreAgents, we are a dedicated real estate outsourcing company that can help you find the best clients for your career.